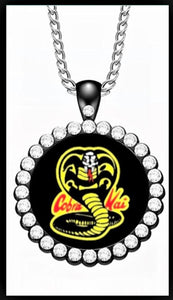 "COBRA KAI" (Netflix Series/'The Karate Kid' Movie Trilogy) Cabochon Necklace
"COBRA KAI" (Netflix Series/'The Karate Kid' Movie Trilogy) Cabochon Necklace
Pendant features iconic logo from popular Netflix television series "Cobra Kai"; also known from all classic "The Karate Kid Trilogy" hit movies!
Image is contained within an alloy-based metal bezel, sealed beneath glass dome cabochon, and hangs from an 18" necklace chain.

Glass Dome Creates 3-D Appearence of Image When Viewing  From Different Angles!
Main Stome: Rhinestone


Material: Glass

Base Metal: Alloy

Style: Cabochon

Color: Blk Chrome/Silver

Measurements: Chain (L)- 18"/ Pendant-Inner Image (D)-25mm
---
We Also Recommend